Announcing the 1st Manning Family Reunion of the New Millennium
Date: Aug. 5, 2001, Sunday
Mass at St. John the Baptist Catholic Church in Muscoda at 10:30 a.m. offered for living and deceased Manning family members.
Tour Muscoda/St. John's Cemeteryfollowing Mass (about 11:30) to see the Manning grave sites.
Reunion Dinner at Richland Center Community Building from 1-5 p.m.
600 W. Seminary St., Richland Center, Wisconsin
Potluck Please bring a dish to pass, paper plates, plastic ware, and beverages.
View the COAT reportedly worn by Catherine O'Connor Manning on her voyage to America, FAMILY TREE information and PHOTOS collected by Lori Manning Berg and Marcia Manning Griskavich.
Please bring pictures, especially old ones of Manning family individuals, groups and important gatherings or occasions. Donations will be accepted toward expenses.
Go here to see some old pictures, please bring more! http://www.monticellowi.com/RichlandCo/Ancestors/Manning.html
Richland Center Community Building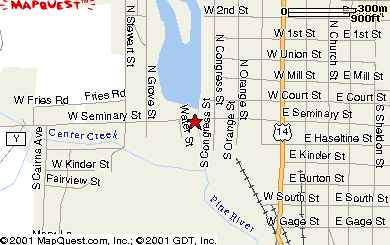 This will give you an idea of where the community building is,
but Hwy. 14 no longer runs down Main St. as it shows here.
Follow Hwy. 14 into Richland Center until you get to Seminary and go west.
The community building will be on your right just past the Pine River.

For more information, contact: