Kevin Ames

Kevin completed a degree in Music Education, decided not to teach, and is now a professional church musician and choir member (Grace Cathedral) in San Francisco, California. His job is in the insurance industry. Kevin was raised in Massachusetts where his grandmother taught him to knit at the age of 10 or so. His first project, a circular pillow completely done in garter stitch short rows, must have done him in because it was another 10 years or so before he picked up needles again.

Kevin, like many knitters, knits everywhere and all the time -- on the morning commuter train or bus, sitting in the park at lunch, walking in the park, and in the evening at home. He knits mostly in order to give gifts to friends and family, enjoying the pleasure the recipients feel.

As for knitting likes and dislikes, (they) "tend to center around 3 things - texture, color, and rhythm. I enjoy working mostly with animal fibers. The feel and texture of those fibers are pleasing to my hands, and I find them really well suited to the sculptural quality of cables and the other patterns of Aran style knitting that I enjoy. I like to think of the surface of an Aran sweater as a piece of marble where I sculpt in bas relief. Rhythm also comes into play in the symmetry of the Aran designs. In the last couple of years I have enjoyed exploring Fair Isle knitting. I love the rhythmic shifting of the colors. And there are so many possibilities for variety although built on very small and simple components - OXOs, peeries, and the like. Meg Swansen has spoken of the "songs" that are hidden in the patterns of stranded color patterns. As a singer myself I love this thought and enjoy singing along with the patterns I'm knitting. While it is nice to uncover these songs I thought it would be interesting to design them into the patterns from the beginning. I've just begun a project to design a collection of patterns based upon Gregorian chant. I'm quite excited!"

Meg Swansen's Knitting Camp and Meg have had a profound influence on Kevin. It was the MFI contest (see next paragraph) that got him so jazzed about fair isle.

Kevin has three original designs on display. All were created as gifts for friends who were also involved in the choice of yarn, color, and garment style. The Aran pullover commemorates a romantic trip to Italy. The pattern features church bells, offset spiral columns from church facades, and the labyrinthine canals of Venice. The fair isle vest and the cardigan were designed for entry into the "Millennium Fair Isle (Or Not) Competition" sponsored by Schoolhouse Press www.schoolhousepress.com and Meg Swansen's Knitting Camp. The pattern of columbine flowers on the cardigan was inspired by both my springtime garden and by Elizabeth Zimmermann's watercolors of wildflowers. Note: The contest, announced during the 27th annual Knitting Camp in central Wisconsin, has evolved into a book of 32 sweaters published by Schoolhouse Press, available in Spring 2002, entitled "Sweaters From Camp." To take advantage of extraordinary, untapped talent, the contest was open to all past and present campers with the challenge: design an all-over patterned garment using 100% Shetland wool.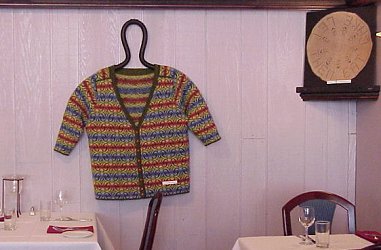 "LET THEM EAT CAKE" was done by Robert Powell (see below)