Artist's Statement -

For as long as I can remember I have been doing fiber arts in many of the various forms. Most recently I have been mainly involved with silk painting which is transformed into artwear.

The vests in this display are from a series of twenty-four made with hand painted silk depicting various Aesop's Fables.

The flora was intentionally stylized to be in keeping with the feelings that the fables are intended to represent. I was also careful to select stories in which the lesson was learned without violence. Experimenting with different color combinations was another part of the overall experience.

The process for constructing these vests was very time consuming. After drawing the designs of paper, they were transferred to plain white silk with a pencil. The yardage was stretched on a frame and painted with silk dyes just as one would do water color using resists to keep the dyes from running together. After two days the fabric was wrapped and steamed for five hours. Extra dye was rinsed out followed by ironing, cutting the fabric into a vest shape, sewing, quilting, etc. Note the buttons. Most of them were purchased after construction as were the coordinating braid trims.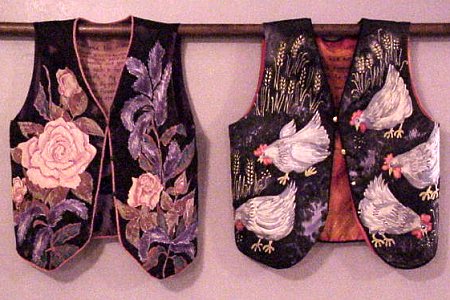 Silk has been my fiber of choice because it comes in many different weights and textures, can be dyed in a myriad of colors, and can be layered, reconstructed, etc., while remaining lightweight.
My most recent work is usually reversible with one side being made up of pieces being reconstructed to give a highly textural surface. The other side carries through the theme with a hand painted design.
I have been fortunate to have had my work juried into numerous national shows at galleries and museums and am currently responding to an invitation from the Bernina Company to be one of fifty participants in its 2004-2005 style show.
Patricia Hable Zastrow