I have been creating one-of-a-kind sewn fiberworks for over 25 years. My specialty is large-scale, site-specific works. My pieces have been commissioned by religious institutions, prisons, schools, hospitals, commercial and residential clients from Alaska to Florida and most states in between. I often incorporate playfulness, and hope that my work enhances the space in which people work, play and find healing.

My works are often characterized by optical illusions, and are sewn in brightly colored fabrics. I use commercial and found fabrics of every color and texture. I love the contrast of matte versus shiny, and creating the illusion of space in two dimensions. I also create narrative works, which have been exhibited nationally and in juried, invitational and solo shows.

On display at The Dining Room at 209 Main:

CHANGING PLACES
Madison is always being remodeled. Here, Joyce remodeled the Capitol dome.
Businesses are those that surround the square in the 70's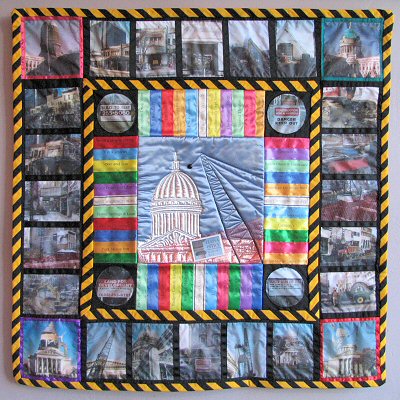 DRAGON ROBES
Chairman Mao in three incarnations. "Dragon Robes" is a name for imperial robes but also refers to the izod alligator and shirt printed with dinasaurs.

FAMILY PORTRAIT
Created for Joyce's son's family, whose initials spell "PEAR"

GLAD RAG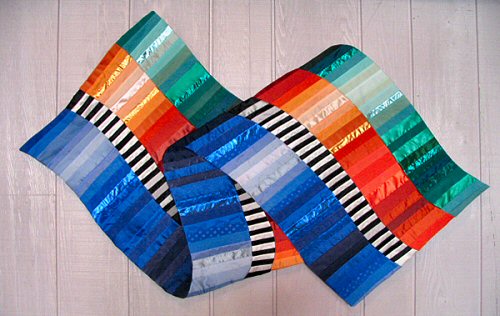 GOLDEN LOTUS
"Golden Lotus" was the Chinese term for the perfectly bound 3" foot. The four women behisd the curtain are beauty contestants, judged only on the perfection of their feet.

INTERSECTION

NEW TWIST 1
RED SQUARES
"Red Square" and "Dragon Robes" are made from jacquard-woven Chinese posters.

ROAD TO AGRA
This is a travelogue of our trip to India, where we learned that the journey
is more important than the destination.

SANGUINARIA
"Sanguinaria" is the latin word for the spring wild flower Bloodroot.

SIGNS OF WINTER
Zodiac symbols and their associated constellations.

SMOKIN' WOMEN
Cigarette advertising used to appeal to women's fear of growing fat.

UNZIPPED
Strands of recombinant DNA inspired this piece.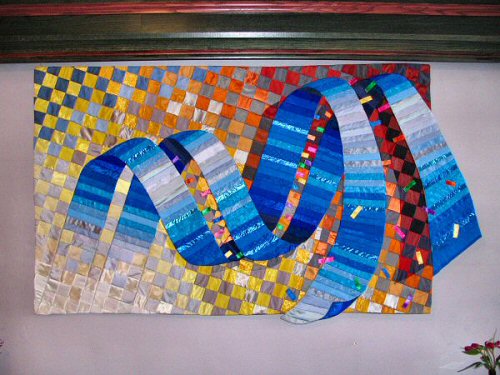 WRIGHT ANGLE
Reference to Frank Lloyd Wright's signature red square, and "unright" angles.

Some of Joyce Marquess Carey's exhibited works are for sale.
Visit her website to see more of her work: www.joycecarey.com