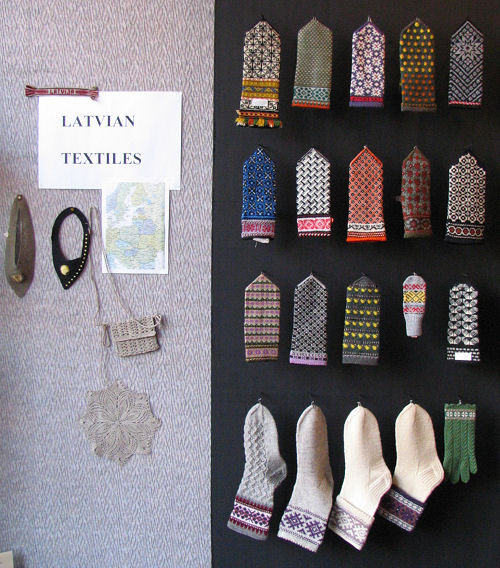 Knitted ethnic mittens "cimdu", gloves, and socks are the focus of this exhibit. All were brought back by Ruth Sybers from Latvia in 2001 and purchased during a tour led by Lizbeth Upitis, author of Latvian Mittens. Many of the items on display were purchased at the open air ethnographic museum near Riga although more intricate mittens were seen at museums. Included in private showings at museums were cimdu made by Jette Uzane. Jette has been honored by Latvia and designated a "National Treasure" for her innovative mittens. Most impressive to us were those designed as she looked out her window from her wheel chair recording the change of seasons. During our visit to her home she demonstrated special techniques and shared her mitten collection. We were able to reunite her with a part of her mitten collection just returning from a Canadian exhibition.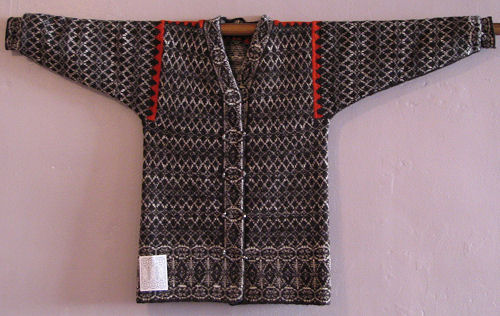 The three striking sweaters in the dining room were designed and knit here in America by Joyce Williams, an unbelievably clever designer from Sparta, Wisconsin. As with the best knitting designers, Joyce creates solutions to the challenges of the yarn and design while considering her personal preferences. For example, her mentor and friend, Elizabeth Zimmermann, preferred not to purl or sew garments together so she devised ways to create whole garments without knitting or sewing together. These days Joyce and Meg Swansen (EZ's daughter, Schoolhouse Press) often have their heads together as knitting challenges arise. Joyce has developed several techniques:
knitting circularly on two circular needles, which works for large sweaters, socks, and even something as small as glove fingers, and attached braided I-cord. Early on she knit socks from the toe up with short row heels and gussets to fit the feet perfectly. Here you see the Latvian weaving designs used in sweaters; note the matching pattern in the body, sleeves and even under the arms. Many more of her sweaters can be seen in her book Latvian Dreams (Schoolhouse Press). You, too, can design on the needles as you go.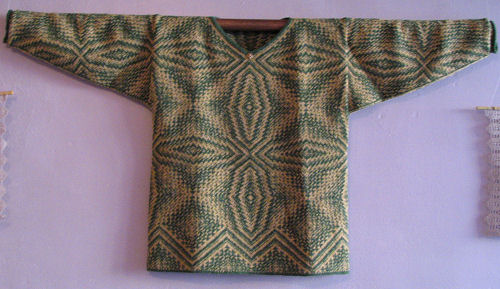 For more about Joyce Williams, go to bottom of this article click on a past display entitled "The Early Knitted Works of Joyce Williams".