Thrill to the brilliant, reflective ornaments, pins, pendants and wall hangings created by Lee Ann Kleeman. While most of her work is displayed in a case, photo enlargements showing the details of the pieces adorn the restaurant. All are for sale to be worn or displayed as wonderful bits of art. Commissions are available. The Dining Room is pleased to display once again another form of beautiful textile art.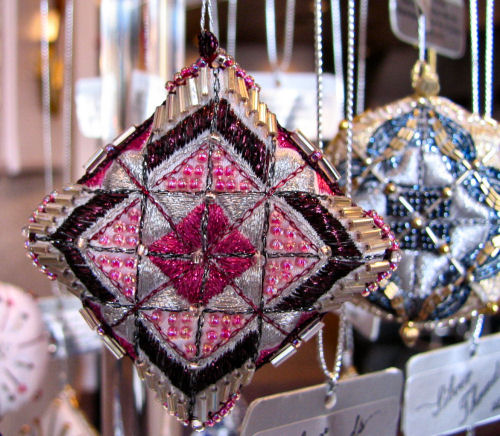 Artist's Statement
Color, texture and pattern are at the heart of my work. I've chosen to work with beads and metallic and silk threads because of their incredible range of colors and textures: brilliant to subdued, slick to bumpy, shiny to matte. These materials and elements help me to create a variety of moods in my work. The light reflective properties of the beads and threads also tend to heighten the emotion of each piece and give it a magical quality.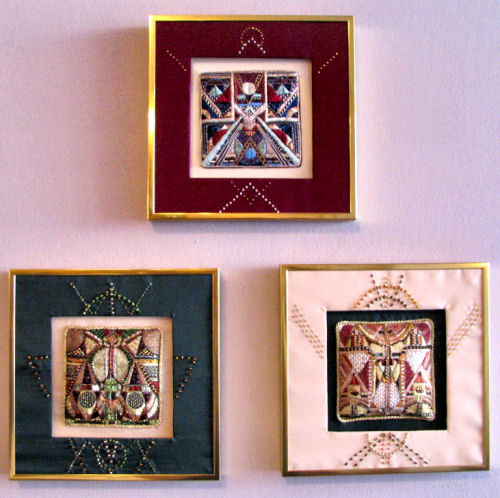 Pattern has been an integral part of my work since I lived in Afghanistan where I was surrounded by the intricate geometric designs of their textiles and tiled mosques. Following that experience I have continued to study the patterns and designs used by cultures around-the-world and throughout history -- both to inform my own work and to share with my students, as I was an art teacher for many years.
I hand-stitch each one-of-a-kind piece employing techniques that have been used in the embellishment of royal and ritual textiles for centuries. Although there is definitely a connection to the past in my work, it has a contemporary and very unique, personal style.