When The Dining Room at 209 Main opened ten years ago, my friend, Rhoda went to my house and took my knitting and hung it on the walls of the restaurant, as we had planned. We were two textile graduates of the University of Wisconsin-Madison who wanted to express our love of textiles. Rhoda is a spinner, dyer, weaver and I am a knitter. Our mission for our displays was to present textiles for the guests' enjoyment. So here we are ten years later, my knitting is again being displayed, a list of the 30 displays from the past is on the wall, and Rhoda and her husband, David, are still planning and executing the displays.

Life evolves - and now I have a business, Knitter's Treat, LLC, sponsoring knitting workshops by designers/teachers from all over the world, and selling associated patterns, books, a bit of yarn and Vivian Hoxbro kits. It has been great fun.

The support of my daughter, Jane and her husband, Wave (owners of The Dining Room at 209 Main) has been a joy. My son, Bill, has enjoyed many knitting related trips.

Ruth Knight Sybers

On display:

Tick-Tack Vest, knit from a kit by Vivian Hoxbro of Copenhagen, Denmark, who taught here a couple of years ago. It is an example of domino knitting and features Vivian's choice of striking colors.

Black and white Norwegian-type pullover - knit by Ruth Sybers in the mid-1950's for her husband and later worn by her daughter, Jane, through her high school years. As usually happens the white has yellowed a bit, but the charcoal grey remains. Wool lasts for years if moths don't interfere.

Zig-Zag vest - another kit from Vivian Hoxbro in bright orange dotted with 3 shades of green. All wool produced by Harrisville Designs. Another example of domino knitting.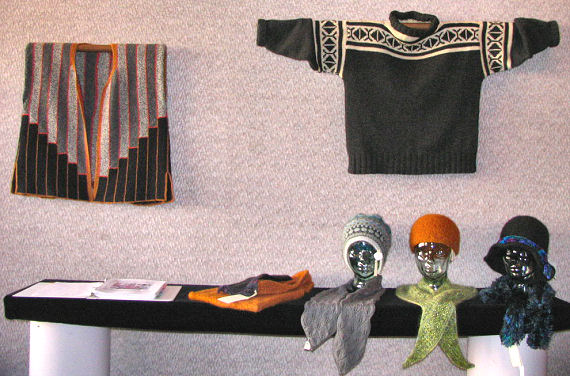 Norwegian Sweater - made years ago when taking a class from Carol Anderson, Cottage Creations, using traditional Norwegian patterns and colors, with the touch of red that represents the blood a bit of their history. Is it true that some sweaters harbored a razor blade to enable their wearer to commit suicide if political situations became unbearable? This was the second sweater that I knit in the round (tube) and cut later for the front opening and the sleeve opening. Elizabeth Zimmermann (Wisconsin and the world's knitting guru) says you then go into a dark room and lie down with a cold, damp cloth on your forehead to recover. Many knitters never try it, but if they realized how the Norwegian-type yarns cling to themselves, they would be braver.

The blue/black vest from the book "Sweaters From Camp", a compendium of patterns resulting from a competition of attendees at Meg Swansen's (daughter of Elizabeth Zimmermann and owner of Schoolhouse Press) knitting camps. This was designed by Janine Bajus and the idea for the ribbing at the bottom came from Kevin Ames while we were at camp in 2004.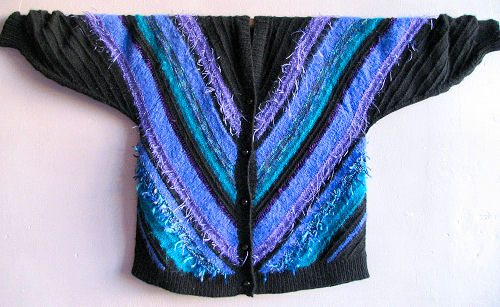 The assortment of socks are all patterns by Lucy Neatby, a leading designer from Halifax, Nova Scotia. She loves to push the limits of the knit stitch as she presents workshops over the world. Lucy has been here to inspire us several times through the years and was the first workshop to come to The Dining Room at 209 Main. Toe-up socks and garter heels are favorites. It all started with the bicycle sock for me.

The blue shawl is Beauty and the Bias by Two Old Bags, two designers (Ann Swanson and Katy Nagorny) from Rochester, Minnesota. Clarity and accuracy of their patterns result in their popularity. The yarn is the lace-weight Icelandic sold by Schoolhouse Press.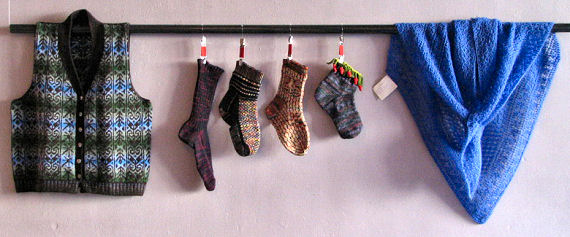 The diagonal cardigan in the black with many yarns and colors (primarily blues and purples) was done in a class taught by Ruby Grossman and Pauline Sinkule (retired teachers and avid knitters). Rhoda Braunschweig suggested the black sleeves and neckline. Great fun to knit and great results.

The suspender sweater, designed by Elizabeth Zimmermann, a wonder of mathematical design for which EZ was famous, knit in navy wool in a class taught by Carol Anderson (Cottage Creations) when she lived in Cottage Grove, Wisconsin.

Various hats, scarves, throws are displayed. Fulling (felting) hats and purses is great fun as is knitting such exotic fibers such as Qivuit, gathered from the wild musk ox, primarily in Alaska.

Wool is a favorite. After all we are in Wisconsin. Enjoy!