Nostalgia - Apron Collection by Jean Adler
Jean Adler, a musician, mother, and wife in Monticello, Wisconsin shares her apron collection with The Dining Room at 209 Main: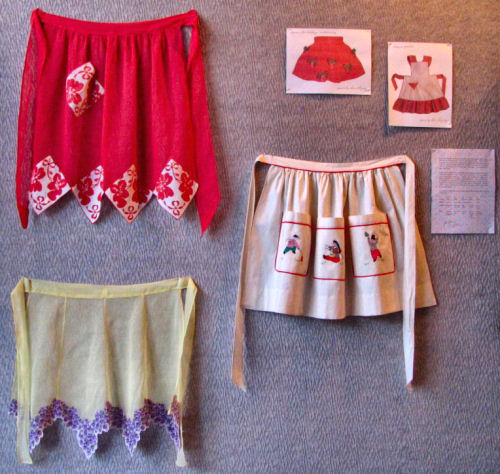 My apron collection was inspired by one worn by my grandmother. It was embroidered with the saying, "Never Trust a Skinny Cook." Born in 1903, Grandma Alice was a young mother at the height of the Great Depression. Like all women of meager means she prepared meals with the few items that were in her pantry. It was often said of grandma, "She could make a shoe taste good."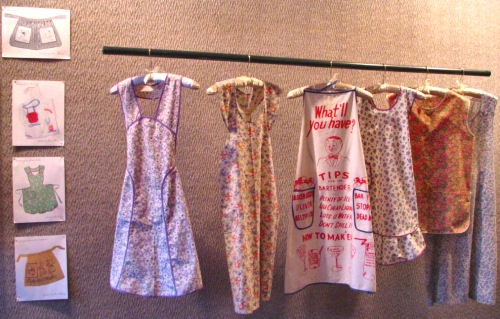 I don't recall either of my grandmothers not wearing an apron when they were in the kitchen. It was a habit born of necessity. However, aprons served more than one purpose. Pockets were catchalls for clothes pins, produce gathered in the garden, and sewing supplies. Aprons could also be an "instant" dust cloth. But first and foremost, aprons kept your dress clean. Anyone who bakes and cooks knows that these are messy jobs. In a day when a woman owned but a handful of dresses they needed to stay clean as long as possible.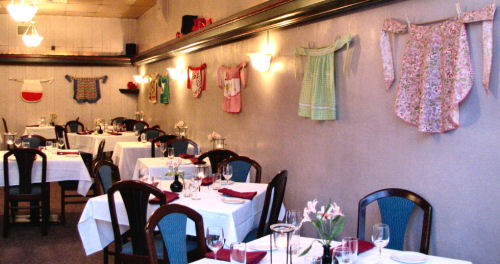 If you have an apron whose age you are unsure of,
this chart will give you a few clues:
20's

30's

40's

50's

60's

COLOR
White
Muted
More Color
Brights
Brown
DESIGN
Long
Close-Fitting
Close-Fitting
Flared
Varied
FABRIC
Sheer Cotton
Lawn
Flour, sugar
grain sacks
Sacks
Organdy
Gingham
Organdy
Varied
left-over
dresses
TRIM
Cutwork
Drawnwork
Embroidery
Bias Tape
Lace
Bias Tape
Lace
Rickrack
Pompoms
Sequins
Beads
Embroidery
Rickrack
Bias Tape
Lace
Photos in the display used by permission:
APRON MEMORIES by EllynAnne Geisel, Andrew McMeel Publishing, 2006.
Ruth Knight Sybers
Knitter's Treat
Monticello, WI 53570

www.209main.com - Textiles - current and past exhibits at The Dining Room

knitterstreat@wekz.net - to join e-mail list for announcements of knitting workshops/new exhibits at The Dining Room at 209 Main

knitterstreat@wekz.net - to order patterns, books, Vivian Hoxbro kits, yarn, etc.

Annie Modesitt workshop - March 25,26,27
Joan Schrouder - June 11,12,13, 2007
As always, a heartfelt thank you to Rhoda Braunschweig who plans and
David Braunschweig who assists in "hanging" each exhibit.